RoSPA Gold Award 2014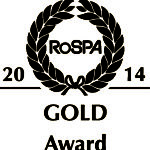 Donegan, is for the third year running among the winners in the RoSPA Occupational Health and Safety Awards 2014.
The Gold award in the prestigious annual scheme run by the Royal Society for the Prevention of Accidents (RoSPA) was presented during a ceremony at the Hilton Birmingham Metropole Hotel, at the National Exhibition Center, on May 15, 2014.
As the UK's family safety charity, RoSPAs mission to save lives and reduce injuries covers all ages and stages of life. In support of this mission, the RoSPA Awards, which date back 58 years, recognise commitment to continuous improvement in accident and ill health prevention at work. Through the scheme, which is open to businesses and organisations of all types and sizes from across the UK and overseas, judges consider entrants' overarching occupational health and safety management systems, including practices such as leadership and workforce involvement.
David Rawlins, RoSPAs awards manager, said:
'The RoSPA Awards encourage the raising of occupational health and safety standards across the board. Organisations that gain recognition for their health and safety management systems such as V J Donegan & Company Limited, contribute to a collective raising of the bar for other organisations to aspire to, and we offer them our congratulations.'
Val Donegan, Managing Director of V J Donegan & Co Ltd, said:
'I'm proud that for the third year running our dedication to working to high safety standards has been rewarded. Special thanks to all our staff who helped attain this award, I hope we can continue this level of commitment and attain a fourth award next year.'
The majority of RoSPAs awards are non-competitive, grading achievement at merit, bronze, silver and gold levels. Organisations that maintain high standards in consecutive years can win gold medals, president's awards and orders of distinction.
Competitive awards are presented in more than 20 industry sectors, and they also recognise excellence in specialist areas, such as the management of occupational road risk (MORR).
See www.rospa.com/awards/ for more information about the RoSPA Occupational Health and Safety Awards.